Healthier Options award
The Lincolnshire Healthier Options award aims to increase healthier food and drink choices in the South Holland district and throughout Lincolnshire. Local takeaways and food outlets with a food hygiene rating of three or above are encouraged to join the scheme to provide their customers with healthier options alongside their standard menu.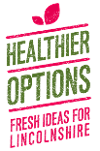 Healthier Options is a collaboration between Lincolnshire County Council, South Holland District Council, Boston Borough Council, South Kesteven District Council, North Kesteven District Council, East Lindsey District Council, West Lindsey District Council and City of Lincoln Council.
The initiative aims to encourage local food outlets and restaurants to make simple swaps on their menus that are healthier and taste just as good. All businesses that join the scheme will receive advice on how they can adapt their menus such as:
reducing salt holes in salt shakers
using healthier oils
keeping the oil clean and at the right temperature
using better frying techniques to reduce fat, saturated fat and salt intake.
Join the Healthier Options scheme
A business which pledges to the scheme will be assessed by an officer of the Public Protection Service from Lincolnshire County Council or South Holland District Council. If the pledge is satisfactorily completed, the business will be awarded a Healthier Options membership.
The business must maintain a minimum food hygiene rating of three during its membership.
If you own or run a food business in the South Holland area and are interested in joining the scheme, please email us on foodhs@sholland.gov.uk.
Download Healthier Options leaflets