Care home and sheltered housing residents embark on a creative journey through music
Posted on 10 October 2018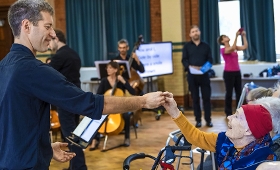 Residents and workers at two care homes and two sheltered homes in South Holland are taking part in a unique live music experience this month as they work with a professional orchestra to create new compositions and songs.
The Creative Journeys project, created by Derbyshire based orchestra Sinfonia Viva, Orchestras Live and South Holland District Council, is running at four venues in the district: Cedar Falls Care Home in Spalding, Gosberton House Care Home, St Matthews Community Centre in Sutton Bridge and Cecil Pywell Community Centre in Holbeach.
The project will see residents develop lyrics and music to entirely new songs through a range of musical games and techniques, led by facilitators and musicians from Sinfonia Viva.
Participants are leading the direction and formation of the music, whilst also learning skills and techniques that are proven to have a positive impact on psychological, social and even physical wellbeing. Following the sessions each venue will receive a recording of their songs so that they have to share and listen back to after the end of the workshops.
The project will culminate in a performance at the South Holland Centre on Wednesday 14 November, where a 21 piece orchestra and professional singer will play the original compositions, along with some classics, to participants, their families and anyone else wanting to be part of the audience.
Cllr Gary Taylor, portfolio holder for communities and facilities said: "The power of music and creativity to transform and empower the health and wellbeing of the older generation has been the subject of many studies in recent years, and it will be great to witness the impact of this through the Creative Journeys project.
"Everyone should have the opportunity to explore their creativity, whether as an audience member or as an active participant, at home, within a care home, in hospital, hospice or within the local community. This project will allow for that and I cannot wait to see the results of it during the performance in November."
Andrew Nesbitt, Education Project Manager for Sinfonia Viva said: "Viva are delighted to continue their work with Orchestras Live in a new project with South Holland District Council. Creative Journeys is a project working with care home and sheltered housing residents across the district, engaging them in creative music making with composer and workshop leader Sam Glazer, and orchestral musicians Clare Bhabra (violin) and Andrew Cook (trumpet).
"Viva have developed nationally-recognised projects working with elders around the country, including contributing to academic research into the positive benefits of creative arts to the health, wellbeing and skills of those living in residential care, and this project is an exciting opportunity to take this experience into a new partnership."
Tickets for the live concert finale will be on sale soon. For more information you can contact the SHDC Community Development team on community@sholland.gov.uk or by calling 01775 761161. Creative Journeys is funded and supported by is by South Holland District Council, Sinfonia Viva, Orchestras Live, Arts Council England, South Holland Centre, Efficiency East Midlands and London Housing Consortium.