Popular free course for potential start-ups in South Holland returns this November
Posted on 3 October 2018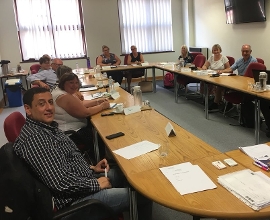 Following a successful, fully booked, workshop in August, anyone looking to start their own business in South Holland can get the skills and help they need with establishing their new enterprise by attending a free intensive three-day Starting in Business course in Spalding next month.
The course, provided by NBV Enterprise Solutions and hosted by South Holland District Council at their Priory Road office, helps to transform ideas into businesses with the help and support of experienced trainers.
On the programme, there is the opportunity to meet like-minded individuals also taking their first steps into their own businesses, and to benefit from the expertise of a company with over 30 years' experience in helping people get their ideas off the ground.
As well as the practical help during the workshop, it will also introduce attendees to the additional support that can be provided to them once they are up and running, including business advice, business workshops, networking, office facilities and much more.
The intensive three-day course will run across November, in the following format:
Thursday 8 and Friday 9 November - Starting and running a business
This intensive 2 day workshop led by an experienced business trainer will teach you the nuts and bolts of starting and running a successful business including: what skills are needed to run a business, the importance of Business Planning, how to market your business, understanding opportunities and risks and how to manage money in a business.
Friday 16 November - 1 Day Business Plan
In this interactive full day session you'll learn the component parts of the Business Plan, how to ask yourself the right questions, the importance of comprehensive market research, how to calculate your start-up costs and how to develop realistic financial projections. They will also talk about the additional support that NBV can provide once you are up and running including business advice, business workshops, networking, office facilities and much more.
Upon completion of the 3 days, attendees will receive a certificate and more importantly everything they need to get their business up and running. Places can be booked by visiting nbv.co.uk/events or calling 0844 887 2568.