Essential maintenance to begin on South Holland Centre in Spalding
Posted on 4 July 2018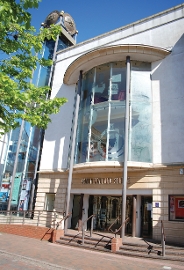 From Sunday July 8 essential maintenance with a specialist contractor will begin on the structure and external fabric of the South Holland Centre in Spalding, with the centre and its busy summer schedule remaining open throughout the process.
The work, which is expected to finish in early October 2018, will see the erection of external scaffolding to carry out updates on areas of the building in order to prolong the lifecycle of the building. This includes work on the glazed wall curtain, the clock tower, and fixings.
The South Holland Centre will remain open as usual during the maintenance and working with the contractors the council are ensuring that there will be minimal disruption to users and to the wider town centre. To see what events the South Holland Centre has on over the coming months, please visit the South Holland Centre What's On Guide.
Nick Worth, Deputy Leader and Portfolio Holder for Growth and Commercialisation, said: "The South Holland Centre remains a key asset to the district and the planned works to the external fabric of the building due to be carried out will mean that the Centre will be fit for purpose for years to come."