Council Repairs Team go above and beyond for residents
Posted on 12 June 2020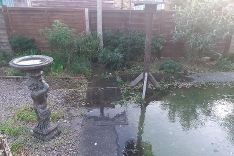 South Holland District Council's housing repairs team went above and beyond for some of their Spalding tenants last month, working throughout the Bank Holiday weekend to fix a leak affecting water supply to homes.
An underground water pipe burst on Wygate Road on the evening of Friday 22 May, leaving numerous back gardens in the area submerged and multiple properties unable to receive water.
Mrs Lilley, the tenant who reported the issue, was watching the birds in her back garden when she noticed an irregular amount of standing water, and got in touch with the Council straight away.
The Housing Repairs team had finished for the weekend and would not normally be able to respond until the next working day, especially given the current time and staff pressure being caused by Coronavirus. However, with it affecting water supply for several properties ahead of a long weekend, several members of the team took it upon themselves to get the problem fixed, giving up their own Bank Holiday plans.
The team turned the water off and ensured that residents had enough drinking water for the evening. At 8am the next day, council operatives were back on site to find the source of the leak, whilst observing social distancing at all times. The leak was traced to underneath the concrete base of a garden shed - which made things even more difficult.
The team had to move the shed, cut through the concrete and dig down about 6 feet to reach the pipe. In just four hours the pipe had been replaced, the ground made good and everything was back to normal.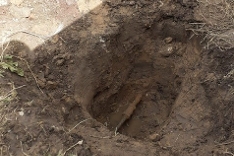 The grateful residents had their water supply back on by lunchtime on Saturday and were full of praise for the team who came out.
Mrs Lilley said: "It was frightening at the time but I was very impressed with the men who came out from the Council. They showed me the split pipe then replaced it and made it safe so that no one got hurt. They put everything back and it's all lovely again, I can't thank them enough. The good thing to come out of it was my lawn looked greener for a few days afterwards!"
Councillor Christine Lawton, portfolio holder for housing and health, said: "At times like this it is heart-warming to hear these little pieces of positivity, and that our team continue to go above and beyond to be there for our tenants, no matter the day or time.
"I'm so proud of the work the housing team have done since the outbreak began, and the numerous ways in which they continue to support residents, whether through repairs, advice or even just being there for a chat. Thank you again to the team for their hard work across the Bank Holiday weekend and beyond."