Council creates resources to encourage VE Day celebrations to continue at home
Posted on 5 May 2020
South Holland residents are being encouraged to take time to remember the 75th anniversary of VE Day safely from their homes and gardens on Friday 8 May, with a series of activities, recipes and decorations suggested by South Holland District Council and Ayscoughfee Hall.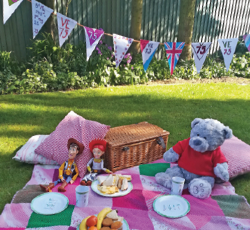 The date recognises Victory in Europe Day, the moment in 1945 when the Allied Forces formally accepted the unconditional surrender of Nazi Germany, effectively bringing World War II in the continent to an end.
With public celebrations of the anniversary cancelled due to the COVID-19 pandemic, South Holland District Council and Ayscoughfee have created a pack full of inventive ways for everyone to celebrate together, whilst remaining apart and safely at home.
A handful of resources including a digital newsletter will be available on Asycoughfee Hall's Twitter and Facebook pages, with word searches, popular 1940s films to watch and much more to get involved with. Residents can also find typical 1940s recipes to make the perfect tea party and picnic, a step-by-step guide on how to make special bunting for the occasion, and even some wartime-era singalongs.
There is also plenty of information about the history of VE Day and its importance for anyone wanting to learn more, or for some special home schooling sessions, and a transcript of the victory speech given by then Prime Minister Sir Winston Churchill.
On the Council's social media channels we have interviews with Squadron Leader Mark Discombe, Officer Commanding of the Battle of Britain Memorial Flight at RAF Coningsby, most recently seen flying the Hurricane for Colonel Tom Moore's 100th birthday flypast. In the videos he discusses what it's like to fly WWII planes, how they differ from today's aircraft and also some history on their role in winning the war.
Councillor Paul Redgate, South Holland District Council Vice-Chairman, reaffirmed the relevance and importance of the date, saying: "It's poignant that the 8 May is the 75th anniversary of VE Day. As we look back then as a nation we are a hardy, determined, strong bunch of people and as we look at this crisis now, there are very similar parallels.
"It is important we acknowledge and recognise the efforts that happened 75 years ago and take time to remember and also rejoice in all the things around it. As part of the anniversary we would like to encourage people to decorate their homes and gardens, and still make it a special day in these very challenging circumstances."
More information about the event and access to the digital resources is available on both the Council's Twitter and Facebook pages and Ayscoughfee Hall's Twitter and Facebook pages.