Partners gather to celebrate development work
Posted on 3 February 2020
News release from Cross Keys Homes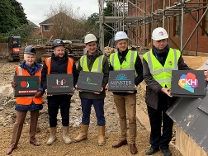 Twenty new affordable homes in Spalding are nearing completion thanks to a partnership between Cross Keys Homes, South Holland District Council, and Minster Property Group.
The Willow Walk development is being built by Burmor Construction on a former brownfield site off Commercial Road, formerly known as Law's Yard, and will provide a mix of one, two and three bedroom homes.
To mark the progress of work to date, representatives from all the partners attended the site to lay one of the tiles on a three-bedroom new build home.
Luke Boekestyn, Burmor Projects Managing Director said: "It was great to welcome everyone to site to show them first-hand the work that has been completed to date. It's always a pleasure to work for and alongside our much valued client, Cross Keys Homes, and increase their portfolio of quality new homes."
Earlier this year, with the backing of South Holland District Council, a grant of £870,000 was secured from Homes England to support the development, with the remaining cost of the homes being met by us.
Claire Higgins, our CEO, said: "We are delighted to be working with South Holland District Council and Minster Property Group to develop more new affordable homes in Spalding.
"We are committed to providing affordable homes that people need in the places they want to live and are seeking more land-driven opportunities like this where we can maximise the number of affordable homes we're building to really tackle the shortage of appropriate homes available."
Five of the new homes at Willow Walk will be available for shared ownership, offering a chance for households to get onto the property ladder by buying between a 25 and 75 per cent share of their home and paying rent on the remaining share. The remaining properties will be available to rent and will be allocated to those on the district council's Housing Register.
Cllr Christine Lawton, South Holland District Council portfolio holder for housing and health, said: "I am delighted to see this development near completion and am now looking forward to families moving in and making these quality new houses into homes.
"It is important that we continue to address the housing need in Spalding and across the District, and South Holland District Council is committed to ensuring homes are available to those who are most in need. It has been a pleasure to work with Cross Keys Homes, Minster Property Group and Burmor Construction on this project."
Previous plans for the site were set to deliver just two of the 20 homes as affordable housing, however Minster Property Group and Cross Keys Homes managed to acquire it and revised plans to develop the whole site as affordable homes instead.
Dan Gooch from Minster Property Group, added: "We are very pleased to have worked with Cross Keys Homes and Burmor Projects to deliver this scheme of much needed affordable homes for the area. It is great to see the project making such good progress. At Minster Property Group we are committed to delivering more affordable homes in the District."
The homes on Willow Walk are due for completion by summer 2020 and the shared ownership homes will be marketed for sale in the near future. Those interested in finding out more about these shared ownership homes can contact the Cross Keys Homes Sales team on 01733 396406 or email sales@crosskeyshomes.co.uk.