Popular New Business Workshops returning for the New Year
Posted on 20 December 2019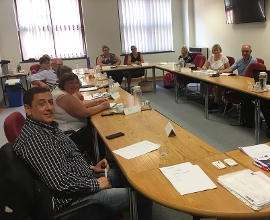 After several successful workshops in 2019 to give aspiring business owners the skills they need to succeed, South Holland District Council is pleased to announce that more of the popular Starting in Business workshops will be taking place in the beginning of 2020.
NBV Enterprise Solutions will be providing three separate workshops over two weeks at the Council Offices in Spalding. The first Starting in Business workshops are scheduled for Thursday 30 January and Friday 31 January 2020. These are followed by a final workshop on Thursday 6 February 2020.
These workshops will focus on helping individuals transform ideas into businesses with the help and support of experienced trainers. The course will bring together like minded entrepreneurs and receive the knowledge and training from a company who has over 30 years' experience in this area.
The course will also offer practical help and additional support after a business is setup, including advice, workshops, networking and office facilities to ensure that new businesses in South Holland have the best possible chance of succeeding.
The workshops will run in the following format:
· Thursday 30 January and Friday 31 January - starting and running a business
This intensive 2 day workshop led by an experienced business trainer will teach you the nuts and bolts of starting and running a successful business including: what skills are needed to run a business, the importance of Business Planning, how to market your business, understanding opportunities and risks and how to manage money in a business.
· Thursday 6 February- Create a business plan
In this interactive full day session you'll learn the component parts of the Business Plan, how to ask yourself the right questions, the importance of comprehensive market research, how to calculate your start-up costs and how to develop realistic financial projections. They will also talk about the additional support that NBV can provide once you are up and running including business advice, business workshops, networking, office facilities and much more.
Upon completion of the 3 days, attendees will receive a certificate and more importantly everything they need to get their business up and running. Places can be booked by visiting nbv.co.uk/eventsor by calling 0844 887 2568.