South Holland District Council moves heaven and earth to get families in new homes for Christmas
Posted on 20 December 2019
Seven families have received an early Christmas present this week thanks to South Holland District Council.
The Council acquired seven new homes in Donington this week with officers moving quickly to get seven families into the new homes in time for Christmas. Some families were facing Christmas in temporary accommodation.
One of the new tenants Amy Young is moving into one of the homes with her two young children.
She said: "I can't thank the Council enough for this. It means we'll be moved in by Christmas. The Council staff have been superb. It's the best Christmas present ever!"
Vikki Cherry, South Holland District Council Housing Services Manager, said: "I am delighted we are able to provide families with these homes which are immediately available to move into.
"To be able to do this just in time for Christmas will hopefully be a special memory for all involved, and is testament to the hard work and dedication of our officers.
"Issues around homelessness and uncertainty for those in temporary accommodation are especially pertinent at this time of year, and I am pleased that as a council we are committed to ensuring homes are available to those who are most in need and giving families the opportunity to make a real home for themselves in the district."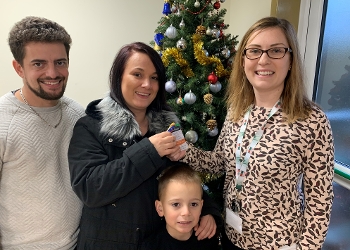 Image Caption: Charlotte, Lewis and Charlie (6) collect their keys from Housing Services Manager Vikki Cherry