New recycling trial to be launched in South Holland this Autumn
Posted on 5 August 2019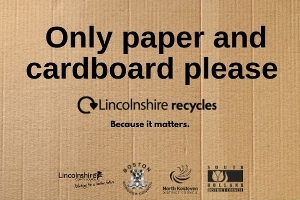 Almost 3,000 homes in South Holland will take part in a separate paper and cardboard collection trial this Autumn, along with around 5,000 more in Boston and North Kesteven.
The year-long trial, run by the Lincolnshire Waste Partnership, aims to boost the quality and amount of paper recycled.
Before it starts, residents selected to be part of the trial will receive a new roll of purple sacks, just for paper and card. Each area of the trial will have its own schedule for collections, with collections in South Holland taking place on alternate weeks from the existing green bag mixed recycling collections.
By using a separate sack it will be possible to collect dry paper and card, avoiding it being contaminated by other recycled items. This can be caused by broken glass, liquid left in tins or bottles, and food waste. This contamination affects the fibres of the paper, making it difficult to recycle.
The purple sacks will be used for items including cardboard boxes and packaging (no polystyrene or bubble wrap), newspapers and magazines, junk mail and envelopes, catalogues, and paper.
We're asking residents not to include anything with food residue or grease on it (for example tops from food containers and pizza boxes.) Residents' existing green recycling sacks will continue to be used for plastics, glass, aerosols and rinsed food and drink cans. However, as part of the trial, we will be discouraging the inclusion of paper and card in the green sacks.
Though the collection days will remain the same, a new calendar of dates will be sent out to inform residents which week to put each colour sack out for collection on. Household waste (black sack) collections will not be affected by the scheme and will continue to be collected weekly as normal.
In the coming weeks, letters detailing the changes to the recycling service will be delivered to households in the trial area, which has been selected as typical of the household types and demographics in South Holland, and provides a selection of rural and town collection. The area consists of almost 3,000 homes in Pinchbeck, Surfleet and the northern part of Spalding.
A number of drop in advice sessions will also be held across these areas to give residents more advice and to help with any problems they may have. More details on these will be given in the coming weeks.
Cllr Roger Gambba-Jones, South Holland District Council portfolio holder for place, said: "We understand that this trial will require some changes to the way residents in the chosen areas recycle. However, we hope that they will support us in our efforts to be forward thinking in seeking better ways to reuse our waste.
"We believe that the system of separating recyclable waste will deliver a better solution for our environment, and help us to contribute to reducing the amount of contaminated waste collected - saving both time and overall cost to our taxpayers.
"By using the purple sacks residents will have more capacity than they do with the green sacks. It will enable us to provide good quality waste paper and card for reprocessing, generating a return to be invested back into our county's waste services."
The trial is expected to run for at least 12 months and will be monitored throughout assessing how effective it is as well as asking for residents' feedback, to determine whether the scheme will be rolled out to other parts of the county.
To find out more about the county-wide trial, visit the Lincolnshire County Council website.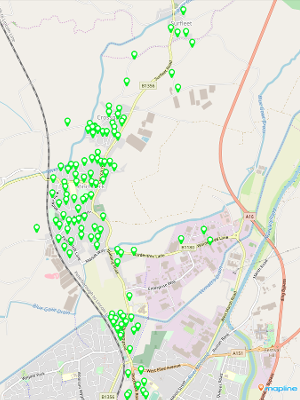 Image Caption: A map pinpointing the postcodes due to be included in the trial.