South Holland District Council purchases 18 new affordable homes
Posted on 14 March 2019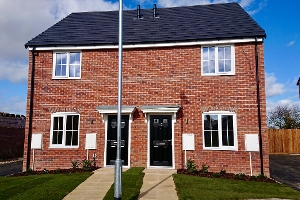 South Holland District Council has taken another important step in expanding its stock of housing for residents in the area, signing an agreement to purchase 18 homes across the district from a local building company.
The one, two and three bed homes are situated in Donington, Cowbit and Moulton. They will provide good-quality housing giving residents access to well-maintained, affordable properties that meet their needs.
The purchases also continue to further the council's ambition to support and partner local businesses in South Holland, with the houses being acquired from Spalding based developers Ashwood Homes.
Six of the homes across the three sites will also be available as part of the Council's shared ownership scheme. The scheme will allow people who cannot afford the mortgage on 100% of a home to buy a share of the property (between 25% and 75% of the value), and pay rent on the remaining share. Shares can be increased over time, eventually raising to full ownership. More details on these properties can be found at www.rightmove.co.uk/property-for-sale/property-79897022.html and www.rightmove.co.uk/property-for-sale/property-79897559.html.
It adds to other development work already underway for the Council, including the building of 34 new affordable homes underway at Small Drove in Weston, which will also include shared ownership opportunities.
Cllr Colin Johnson, portfolio holder for corporate delivery and strategic oversight was delighted to see the council expanding its housing stock, saying: "It's great news that South Holland District Council is continuing to invest throughout the district, and these new homes will add to our existing developments in providing excellent, well-equipped places for our residents to live.
"Quality and desirable housing, built with the use of local contractors and developers, is invaluable to supporting the growth of South Holland's infrastructure, hugely benefitting the economy of the area.
"It is great that through this and our work through Welland Homes we are expanding housing provision for residents across the whole district."