Flag raising ceremony to recognise Commonwealth Day
Posted on 6 March 2019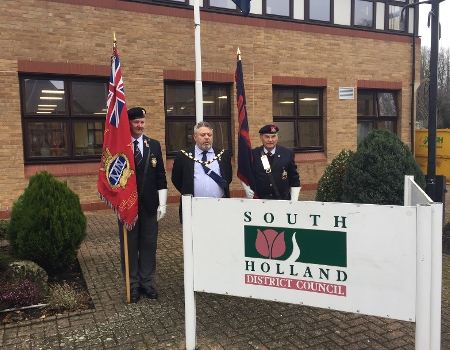 South Holland District Council will host a short ceremony at their Priory Road offices in Spalding on Monday 11 March, to raise the blue and yellow flag in recognition of Commonwealth Day.
Throughout the day more than 1,000 flags are expected to be raised across the 53 countries celebrating a 'Connected Commonwealth' and its opportunities for a diverse mix of people, governments and institutions to connect and cooperate with one another.
2019 also marks the 70th anniversary of the formation of the Commonwealth as it is configured today, with old ties and new links enabling co-operation towards social, political and economic development.
The Council's event will consist of a ceremonial raising of the Flag of the Commonwealth of Nations, led by South Holland District Council Chairman Cllr Rodney Grocock who will be joined by former service personnel, fellow councillors, council staff and the general public.
South Holland District Council Chairman, Cllr Rodney Grocock, said: "It is important to recognise the great history of the Commonwealth and the strong future that lies ahead. As a Council we are committed to upholding the values set out in the Commonwealth Charter and joining the 52 other nations in celebrating this great and diverse union."
The flag-raising is free for all members of the public to attend, with the ceremony beginning at 3pm. Visit thecommonwealth.org to find out more about the celebration and other events taking place during the day.