'Strong and clear financial plan' approved by South Holland District Council in 2019/20 budget
Posted on 28 February 2019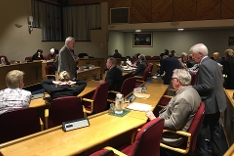 Councillors from South Holland District Council have agreed the adoption of their 2019/20 budget following a Full Council meeting last night (Wednesday 27 February).
The budget includes positive progression for South Holland, including the building of high-quality affordable homes, the protection of vital frontline services and business rates retail relief which could offer savings of up to a third for some companies in the district.
During the meeting councillors also gave their approval to cabinet's recommendation to increase the district's council tax by less than 10p a week for almost 95% of households from April, the lowest percentage rise across Lincolnshire.
The Council's capital programme will see a total investment of nearly £50 million over the next four years in key housing, infrastructure and growth priorities, including over £14m on new affordable housing.
The planned investment in new homes includes £1.1m in funding from Homes England to help deliver 34 affordable homes at Small Drove in Weston. Further allowances have also been made for the acquisition of other land and properties in the district, with the removal of the Housing Revenue Account borrowing cap offering an opportunity to develop more new homes for residents.
The balanced budget means that the New Homes Bonus can be used to fund a half million pound community reserve. This reserve will support projects and initiatives delivering benefits to the residents of South Holland, more details of which will be given in the coming months.
The business rates retail relief means that properties in South Holland that are wholly or mainly being used as shops, restaurants, cafes & drinking establishments, with a rateable value of less than £51k, could save up to a third of their rates bill over the next two years.
The budget also factors in the amount that is paid to the Internal Drainage Boards to manage the district's waterways over the next year. A 2.67% rise in this charge takes the total cost to over £2.4m, around 18% of the Council's total budget.
Cllr Nick Worth, deputy leader and portfolio holder for growth and commercialisation said: "I am delighted that council have backed our budget for the next year, which sets out a strong and clear financial plan for the future of the district.
"Our overall financial position continues to be good, despite cuts in central funding, and we are in a robust position for the challenges and changes ahead, without negatively affecting our residents or the services they receive.
"The budget has been subjected to detailed scrutiny, challenge and verification to ensure that our money is spent in the most effective way, and we are confident that it will have a far-reaching and positive impact for all of our residents and businesses."