Last remaining properties at McLaren Gardens completed
Posted on 15 Feruary 2019
The last remaining properties at a new housing development at McLaren Gardens in Spalding have now been completed.
The building of 48 new affordable homes started in October 2017 with the £4.65 million development being partially funded through a £815,000 Homes England grant. The registered provider, Waterloo Housing, now part of the Platform Housing Group, funded the remainder of the project themselves and were given final handover of the site last week from the contractor Geda Construction.
The new homes, comprising 1 and 2 bedroom properties for affordable rent, and 2 and 3 bedroom houses for shared ownership, are built on the site of a former car showroom on St John's Road.
The development was named McLaren Gardens to commemorate the Honourable Francis Walter Stafford McLaren who was an MP for Spalding but was killed during World War 1 in a flying accident.
South Holland District Council encouraged Platform Housing Group to build more affordable homes in the district through their partnership working. The Council has also benefited from nomination rights to the 15 rented properties which have been let to people in housing need from the Council's Housing Register. The 33 shared ownership properties have been sold or reserved to those who either live or work in the district.
Shared ownership offers the opportunity for residents who can't afford to buy outright to get a foot on the property ladder. Shared owners usually pay less in rent and mortgage than outright owners and private rented tenants. For example, the average share sold on the homes at McLaren Gardens was 35 per cent. Therefore, the monthly cost of a two-bed house is typically £409 per month, compared with a similar property type in the private rented market of £663 per month. For a fully purchased property, a typical monthly mortgage cost would be £686 on the open market, assuming a 5 per cent deposit over 25 years.
Councillor Christine Lawton, Portfolio Holder for Housing at South Holland District Council, said she was delighted to see new affordable homes built and serving the community.

"It's fabulous to see these homes benefiting the community. It's a great new development and one we are keen to replicate across the district so everyone can benefit from good, quality affordable housing."
Kerry Cade, Project Manager for Platform Housing Group, said: "Our contractor, Geda Construction, have done a great job turning a brownfield site into a very attractive housing development. The shared ownership sales units have proved very popular, with the majority of the properties being reserved off plan. We've also provided much needed 1 and 2 bedroom homes for rent to people with a local connection to the Spalding and South Holland area."
Platform Housing Group have plans to develop new affordable homes for rent and shared ownership in Cowbit, which should be completed during 2020. For shared ownership information please contact their sales team on 0345 450 3995.
For more information about how the council is helping with affordable housing, please visit our website at www.sholland.gov.uk/housing.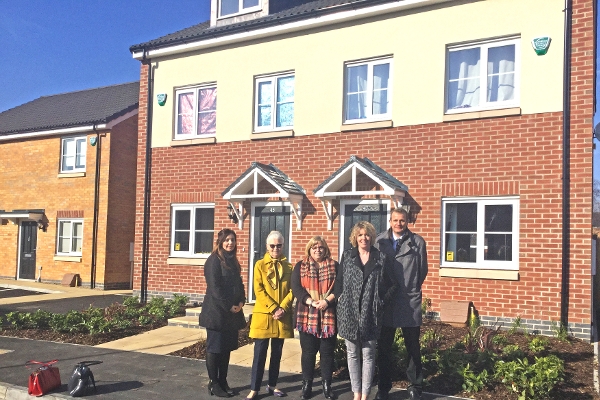 Pic caption: (l-r) Angela Doherty, South Holland District Council's Housing Strategy and Enabling Officer, Cllr Christine Lawton, Portfolio Holder - Housing and Health, Kerry Cade, Donna Gadd and Andy Parker from Platform Housing Group.