Welland Homes provides five new rented homes in Long Sutton
Posted on 15 February 2019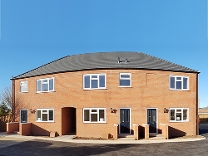 Five new properties in Long Sutton have been bought by Welland Homes, a housing company owned by South Holland District Council.
The five, two and three bedroom houses on Tennants Close, off London Road, have been built by local builder D&R Property Services Limited based in Long Sutton.
The properties are due to be formally handed over to Welland Homes in the next few weeks, however all are currently being advertised for rent by Ark Property Centre, based in Spalding.
D&R also worked with Welland Homes to provide 15 new houses on Green Lane and Walters Close in Spalding.
Councillor Peter Coupland, board member for Welland Homes, said: "This is great news for Long Sutton and those wanting access to rented accommodation in the town. This is another exciting development for Welland Homes, following the development of 10 further homes which is underway at Pankhurst Close in Spalding."
A spokesperson for D&R Property Services said: "We were delighted to work in partnership with Welland Homes in providing these new homes to the residents of Long Sutton. It's always good to see a local council choosing to work with a local building company and we hope to work with them again in the future."
This latest acquisition follows the building of 10 further private rented homes at Pankhurst Close in Spalding, which will be complete and available for rent from April 2019.
The properties at Tennants Close are currently being advertised for private rent. Anyone wanting more information can talk to Ark on 01775 766888 or visit www.arkpropertycentre.co.uk. Anyone wishing to see a virtual tour of the properties can do so here.