Blueprint for future development approved
Posted on 11 February 2019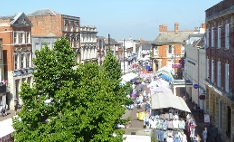 A document that guides all future development in both the districts of South Holland and Boston has been formally approved by a Government inspector.
The South East Lincolnshire Local Plan will be adopted next month (March 2019) by the South East Lincolnshire Joint Strategic Planning Committee - a partnership of South Holland District Council, Boston Borough and Lincolnshire County Council.
The purpose of the Local Plan is to identify opportunities for growth as well as setting out clear policies to guide proposals for new developments across the two authorities up until 2036.
The adoption of the Local Plan next month is the culmination of four public consultation events held over the past few years across both districts, aimed at informing residents of the production of the Plan, together with collating and considering the thousands of comments received over that time from individuals and other interested parties.
The public consultation also allowed residents to air their views in front of an independent Government Inspector who rigorously tested the Plan to ensure that it meets the requirements of national planning policy and is legally compliant.
South Holland District Councillor Roger Gambba-Jones, Chairman of the South East Lincolnshire Joint Strategic Planning Committee, said he was delighted to receive the Inspector's final report and looked forward to the Local Plan being adopted.
"This Plan will act as a blueprint for how our communities will be shaped over the next 17 years. While housing and infrastructure is of vital importance to where we all live, so is the unique character and beauty of this part of the world. So there's a balance to be struck, and I believe this Plan does that."
Councillor Claire Rylott, Boston Borough Council Cabinet member and vice-chairman of the joint committee, said: "This is a major milestone for the future of Boston in bringing forward new homes, businesses and infrastructure as well as protecting those things which make the area special."
For more information about the Local Plan and to see the inspector's final report go to www.southeastlincslocalplan.org