Young people urged to showcase their creative talents
Posted on 4 February 2019
Young people aged 14 to 18 are urged to enter this year's South Holland Open Arts Exhibition, with a chance of winning a prize worth £500.
For the winner of our Young Person category, a prize worth up to £500 will be kindly donated by Spalding Picture Framing. The exhibition is free to enter, and there is an option to have your displayed artwork available for the public to purchase.
The 19th South Holland Open Arts Exhibition will take place from Thursday 4 April until Wednesday 10 April at the South Holland Centre in Spalding.
Artists are welcomed to enter this highly prestigious competition which showcases the best work created by artists who are living and working in the district of South Holland and the surrounding region.
The contest is open to anyone over the age of 14 who is living or working in: Lincolnshire, North Lincolnshire, North East Lincolnshire, Cambridgeshire, Nottinghamshire, Rutland, Northamptonshire, Norfolk, Leicestershire or Fenland.
Artists may enter up to three original pieces of work in the following media types: 3D, photography, digital, oil, pencil, pastel, watercolour, acrylic and gouache.
An independent panel of judges will then assess the pieces and choose a selection which demonstrate a diversity of ideas, styles and methods, which will be displayed at the exhibition.
The three categories include: the public vote trophy, best newcomer, which is sponsored by Riverbank studios with a prize of £100 and the young person award (14-18), sponsored by Spalding Picture Framing with a prize of £500 worth of vouchers to be used by the winner to frame their own pieces of artwork.
If you wish to enter the contest or know someone who would like to, please complete an Open Arts entry form and submit it along with photographs of the work to South Holland District Council's Community Development team by Friday 22 February.
Full details on how to enter and the rules can be found in the entry form. Entry forms are available from South Holland District Council, The South Holland Centre, Ayscoughfee Hall Museum, libraries and galleries around South Holland and online at www.sholland.gov.uk/openarts.
For any further information or to receive an entry form, contact the Community Development team on 01775 761161 or please email community@sholland.gov.uk.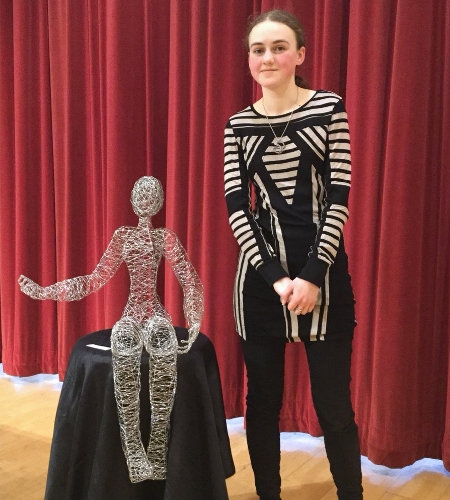 Kristina Fuller and her artwork - 'Accepting My Fears' - winning 'Best Newcomer' last year.