£50,000 government investment boost for Holbeach Food Enterprise Zone
Posted on 3 January 2019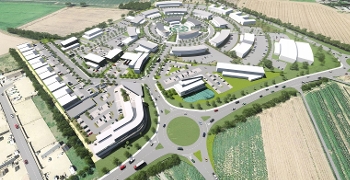 The development of the Holbeach Food Enterprise Zone has received another significant boost today, with the announcement of around £50,000 government investment to help enable manufacturing growth on the site.
The funding, announced by Communities Secretary and Midlands Engine Champion James Brokenshire MP, is part of £500,000 invested in the space, food and drink and advanced manufacturing sector across several new enterprise zones in the East Midlands.
This follows the news in November that South Holland District Council had formally approved an Order giving a range of planning freedoms for the 17-hectare site, where the University of Lincoln have already been granted permission to build a Centre of Excellence in Agri-Food.
The ambition is for the whole of the FEZ site to provide a hi-tech agri-food hub for the district's agricultural and food sector, offering high-quality business accommodation, business support, technology, education and training facilities to promote and maximise the positive impact food and agriculture has on the local economy.
The news was welcomed by South Holland District Council Deputy Leader Nick Worth, Portfolio Holder for Growth and Commercialisation, who said: "This is an ideal start to 2019 for both the FEZ and the South Holland economy as a whole, as this exciting new development continues to receive national support and become an even more attractive prospect for any food and related businesses.
"The FEZ will cement South Holland's place at the centre of the food production sector, on a national and even an international scale. This promises to be an exciting year of development and growth for this site and the rest of the district, and this investment gets it off on the best foot possible."
Communities Secretary James Brokenshire MP said: "Manufacturing, innovation and trade are at the heart of the East Midlands economy, so it is the perfect place for the UK's first Manufacturing Zones.
"This is another example of how the government is delivering for the Midlands with our modern Industrial Strategy backing local businesses and building on local strengths."